"Gratitude Makes You Happy!" ~Mendel
At his Bar Mitzvah, just a few weeks before his unexpected passing, Mendel explained the importance of gratitude and spoke about the short and powerful Tefillah of Modeh Ani.
In his words:  "The twelve words of Modeh Ani contain profound principles of Judaism."
That Hashem is everywhere. 

Our waking up each morning hints at Hashem's ability to create life from nothing. And even more amazing, it reminds us He is continually re-creating the world from scratch.
Hashem's returning our life to us despite our imperfections shows His kindness, something that we should emulate starting right when we wake up.
We're thankful for having our specific soul returned to us because of our unique importance to Hashem and his plans. "We matter!"
Mendel's request: "It would mean so much to me if tomorrow morning, 300 people started their day thanking G-d for all of the good things in their life, beginning with just being alive."
HELP US GIVE MENDEL THE GIFT HE ASKED FOR!
ORDER FREE MODEH ANI CARDS HERE TO SHARE WITH YOUR FAMILY AND FRIENDS!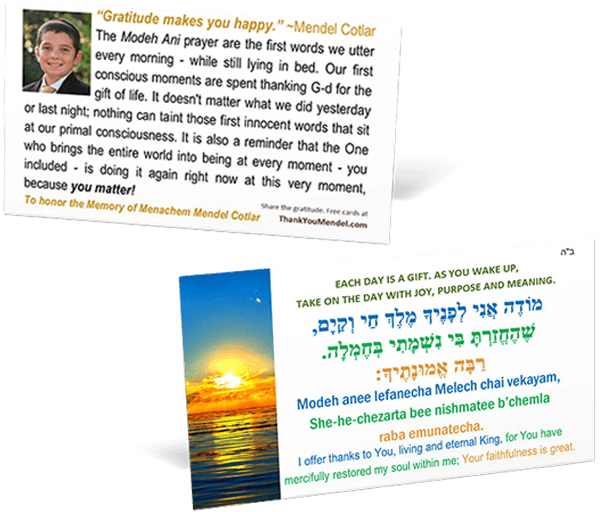 2: Larger card for wall or nightstand 8.5″ x 5.5″